You can leave the worry behind when you know exactly where you can get your problem solved.
Don't wait until that air conditioner doesn't work, that hot water tank leaks all over the floor, there is no heat, or that drain backs up. We can be there to help with our highly trained technicians we can do every major and minor repair and much, much more. So service that furnace before the weather changes so you won't be left out in the cold or that air conditioner so you can be in the cold. Book now before it's too late.

We offer recurring appointments as well. Set yours up today!
Did you know that your Hot Water Tank requires regular maintenance?
After all Hot Water Tank floods are one of the three major causes of floods in homes (the other two being sewer and laundry).
Your Tank should be serviced by a professional plumber every two years. It is also best to hire a professional plumber when it comes to replacing major parts or installing a new Hot Water Tank. But there are a few things you can check yourself, one you have checked your manual of course.
Visual Examination of your Hot Water Tank
Once a year you should check for water leaks, either at plumbing joints or coming from the tank itself. Inspect all the hose connections and joints on your Tank and check that you are not seeing any excessive or unusual corrosion. Turn on a nearby hot water tap and listen for unusual sounds (especially hammering or crackling) that might indicate a more serious water heater problem that requires a professional. If you discover any of these things it is best to call a professional plumber in to access it.
Your Hot Water Tank should also maintain a proper water temperature. It should not be set below 55°C because you could risk developing harmful bacteria in your water system.
You should also smell around your Hot Water Tank for any gas leaks, if the tank is gas powered and always make sure there are no flammable materials near the area of combustion.
Life Span of your Tank
You should know the age of your Hot Water Tank. A Hot Water Tank has a general life span of ten years. If you are getting more than ten years out of your tank you are doing well but you should do a visual inspection of it more than once a year to be certain it is still working for you. A good rule of thumb is to write the year your tank was installed right on the Hot Water Tank for reference.
If you are unsure of anything our plumbers are fully licensed and available to help you. We have been helping residents with plumbing, heating and drain services since 2002.
We know Hot Water Tanks. Gas Hot Water Tanks. Electric Hot Water Tanks. Tankless Water Heaters. If it has anything to do with repairing your current hot water tank or installing a new one, we can do it.
SCHEDULE APPOINTMENTSCHEDULE APPOINTMENT

Almost every homeowner or renter has a few essential tools on hand to cope with minor plumbing emergencies. Many times, a clogged toilet or slow drain may need a little elbow grease and a plunger to work as intended. If you're handy around the house, you can generally tackle a small repair such as changing out a worn washer or replacing a drain cover. However, bigger plumbing repair jobs need professional attention. Trying to repair some common issues such as slow drains or leaking toilets could lead to bigger problems later.
Some issues are too dangerous or complicated to tackle alone. For these you should hire a certified plumber for the safety and the integrity of your home.
Leaking Faucet
If you've ever tried to fall asleep with a dripping faucet in the next room or wrestled with a kitchen sink that didn't know when to stop, you know how annoying this common problem can be. A dripping faucet also drives your water bill higher. A single faucet can send hundreds of gallons of water per year down your drains a drop at a time. When you turn the tap on and off, rubber or silicone-based washers form a water-tight seal that prevents more water from pushing its way through the pipes and out of the faucet. Over time, washers can become stiff, torn or dislodged, allowing a tiny trickle of water through and creating that annoying drip. While you can replace washers yourself, the repair job can be more of a challenge than you might expect without specialized tools. If the leak has gone on long enough, the valve seat may become worn or corroded, necessitating a more involved repair that's best left to a professional plumber.
Low Water Pressure
When water that should gush only trickles from the tap, you have low water pressure. This problem might not be related to the pipes in your house but to the municipal water supply. It's rare, but a break in a main line can temporarily reduce your water pressure. A more common cause of this problem is a build-up of deposits or sediment on faucet aerators. The first thing to check is if the low water pressure is affecting both the hot and cold water of the faucet. If both the hot and cold have low pressure then the most likely cause is the aerator. Calcium deposits slowly build up in the faucet aerator and reduce the water pressure. A blocked aerator is a very easy thing to fix. To clean out a faucet aerator carefully remove the aerator, clean out any debris and build up on it and put it back on. If you opt for professional plumbing maintenance, your plumber will take care of this for you.
Running Toilet
A toilet that cuts on and off by itself, or runs intermittently, has a problem that plumbers call a phantom flush. The cause is a very slow leak from the tank into the bowl. This problem is almost certainly caused by a bad flapper or flapper seat. Occasionally, though, toilets run for more complex reasons. If you opt for professional plumbing maintenance, your plumber will take care of this for you.
Leaky Pipes
Whether your regular inspection reveals a puddle under a pipe or you get an unpleasant surprise when you reach under your sink, leaks can be a costly nuisance. Whether your regular inspection reveals a puddle under a pipe or you get an unpleasant surprise when you reach under your sink, leaks can be a costly nuisance. If you opt for professional plumbing maintenance, your plumber will take care of this for you.
SCHEDULE APPOINTMENTSCHEDULE APPOINTMENT

Is a Plugged Drain Ruining your Day?
Don't struggle with those rented machines only to find out that you still need a professional to come in. No need to buy those chemicals that eat away the plugs as well as the piping. Save that money and call in the professionals right away. We can get through to the root of the problem and solve those drain problems today. Anywhere you have a slow running drain or a plugged drain we can help.
kitchen sinks
bathroom sinks
tubs
showers
toilets
sewers
laundry sinks
garage sinks
Slow Draining Sink
A sink that is draining slowly is a very common plumbing problem. Often the pop-up that is used to plug up the sink can collect a lot of hair and debris over time. To get the drain flowing smoothly again the debris needs to be cleaned out. One way to do this is to remove the pop-up and clean it out. Most pop-ups are held in place with a nut attached to the drain just under the sink and can be unscrewed by hand or with pliers. Once the nut is removed the pop up can be cleaned and then reinstalled. If you opt for professional plumbing maintenance, your plumber will take care of this for you.
Slow Draining Tub
A slow draining tub is another very common plumbing problem that can be easily fixed. Often the tub drain is full of hair which slows the water down as it drains out of the tub. If there is a tub stopper in the drain you may have to remove it before getting to the hair clog. It is a good idea to clear out the debris in the tub drain on a regular basis even if the tub is not draining slowly. If it is left too long it could end up clogging the drain completely. If you opt for professional plumbing maintenance, your plumber will take care of this for you.
Slow or Clogged Drains
When the water that goes into your sink, tub or toilet won't go out, you probably have a partial or complete clog. In many cases, your trusty plunger can fix the problem. Plungers use air pressure to dislodge a clog, but they can't remove it entirely. Commercial drain cleaners and clog removers are safe for most drains for occasional use, but these caustic materials can damage some pipe materials if used too frequently. If you're dealing with clogs on a regular basis, it's time to call a pro. You should also let that professional know that you have used a commercial drain cleaner as it burns the skin if touched.
What Could be the Cause of that Plugged Drain?
Well for starters it is best not to pour oily liquids into your drains. This builds up around the outside edges of your pipes until it finally becomes such a small opening that not much gets through. Save that oily liquid for the garbage can and save your drain.
For those homeowners with a garburator you should never garburate stringy foods over overstuff the garburator. And always use water when running the garburator before, during, and for at least a minute afterwards.
Still, trying to figure it out – sometimes turns into a guessing game – unless you call us in. Our professionals will use proper equipment and are also able to do a video inspection inside those lines to get down to the 'root' of the problem. We will provide you with a copy of the video inspection and if any problems are found we can also locate the approximate location and depth, and mark it. That way if there is any excavation or repairs required it can be pinpointed to a small area for less mess and money spent.
We are also equipped to handle any excavation and repairs required. We will take all the worries out and won't leave you all twisted up in the 'root' of the problem.
SCHEDULE APPOINTMENTSCHEDULE APPOINTMENT

Sewer Camera
Have you ever cleaned your sewer line only to find it is plugged again a few months later? At Pro Flow Plumbing, we want our customers to see the 'root' of the problem. Instead of relying on traditional drain line troubleshooting methods, video sewer camera inspection pinpoints the trouble spot and helps visually confirm the cause of the problem.
There could be several reasons for continually slow draining pipes and repetitive clogs. The process is simple: Our professionally trained technicians insert the video sewer camera into your sewer line through your ground level cleanout while you watch on our video monitor. During the video sewer camera inspection, we enable you to see any existing problems in your sewer line; root intrusions, broken lines, foreign objects, low spots, cracked or misaligned pipes and other visible defects.
So What is a Sewer Camera?
A Sewer Camera is a video lens on the end of a strong cable. It is generally sent down a drain that is 2″ in diameter or more, but can sometimes work on lines as small as 1.5″ in diameter. They still require clear water to be able to see anything so if your line is plugged, that plug may need to be taken care of prior to seeing what could have caused it.
Depending on what we see we can then diagnosed the problem. From here we can then discuss your options.
Common Sewer Camera Inspection Issues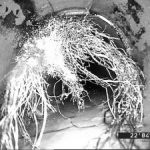 This often looks like string inside the pipe. Thirsty tree roots work there way into your pipes, usually through the joint of the pipes. Sometimes we may pull 1 – 4 feet of roots out of the pipe.

Corrosion on the inner surface of the pipe

Some older homes, especially those built in the 20s and 30s, have cast iron sewer lines. Over time these corrode, and the metal develops pits and even flakes that can trap debris.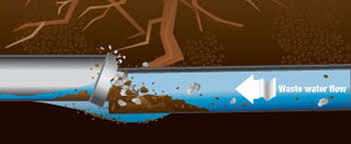 Offsets in the joints between pipes
Your sewer line is made of sections of pipe joined together. Over time, the ground outside your home can shift and settle, and push the pipes in different directions, causing breaks in the joints. This can create a ridge that traps debris and leads to a problem area.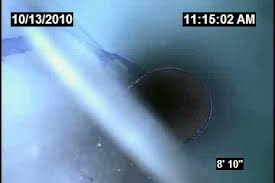 Areas of pipes that have low spots
This can be caused by inadequate support under the pipe during construction and/or settling and compression of the ground above the pipe. This can often happen when after extensive landscaping is added above the pipe. We can tell that this is the problem if the camera hits pockets of water that end further on. This means that water has collected in a low point in the pipe.
Our video sewer camera inspection service is the most effective method available to locate suspected problem areas within your drain lines, so you can determine the best solutions. Don't just clean your sewer line, see it!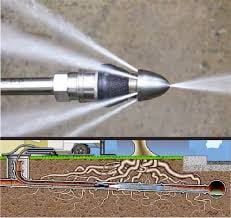 Water Jetting
Using a state of the art pressure unit, we are able to pressurize ordinary water, controlling and propelling it under high pressure into your drain or sewer line. Since we use ordinary water under pressure, water jetting is environmentally safe and economical and because we can use different nozzles and attachments, we not only control the cleaning.

Sometimes augering out those lines just won't cut it. The auger can cut a hole through the gunk in the pipes but it doesn't always get all the grease and buildup left behind. The pipes can close in 1 to 3 inches with buildup caused by grease and garburator residue. That is when we need to look at other alternatives.process. We can direct the powerful streams of water to cut through the toughest blockages to wash away all the contaminants in the pipe, leaving you with a clean pipe which we then inspect using our high tech video camera.
SCHEDULE APPOINTMENTSCHEDULE APPOINTMENT

Don't dig up your whole yard to fix your pipes. Have our experienced professionals diagnose the problem using our Line Locating Device to pinpoint a specific area.
In the past, plumbers had to make their best guess where damage or an obstruction was located. Then, they would dig up that area, hoping for the best. Nowadays, a small remote radio transmitter can be attached to the video inspection sewer camera to record the depth and location of the suspected defects and obstructions. This type of Line Locating can help to pinpoint exactly where repairs or digging should take place.
How can we do this? Well we use a Remote Transmitter along with our Line Locating Device to help guide us. Let us explain the process below.
Remote Transmitter
The remote transmitter device is a powerful, miniaturized transmitter that can be installed at the end of a sewer cable. It transmits a 512 Hz signal that can be picked up with our compatible locator, allowing the pinpointing of the transmitter's position underground.
Line Locating Device
The Line Locating device uses multi directional antenna technology to maximize the signal strength and see a signal all the time. By moving the locator over the ground, the signal emitted from the remote radio transmitter can be marked both in front and behind. Using these together insures for a more accurate locate.
Although Line Locating is still not an exact science extremes in moisture, either too dry or overly saturated, may affect measurements. But when used together, with our experienced professional, it is a non-destructive method that allows for a no-mess, easy and accurate way to locate problems in your sewer lines and drains. Even if those problems are in cement or beneath your home's foundation.
SCHEDULE APPOINTMENTSCHEDULE APPOINTMENT

'Don't be one of those people that find themselves stuck on the hottest day of the year with the hottest house on the 'block'.
Most people choose to wait until their air conditioner or furnace breaks before calling for repairs or replacement, but not you! By scheduling Regular Maintenance of your heating & cooling systems you will improve the efficiency of your equipment and have little to no unexpected down time. Proper performance of your systems will reduce your utility bills, save you money, and all your equipment to reach the full potential of their system life. Regular Maintenance will prevent 99% of all air conditioner malfunctions and can be easily addressed before you are faced with bigger problems.
We can take the worry out of remembering. Just sign up for a recurring appointment with us and we will call you when it is time for your furnace maintenance to schedule it. That's it. Sounds pretty easy. Then what are you waiting for?
Basic Maintenance Suggestions
Check the furnace filter and change it if it's dirty to keep dust from collecting on the evaporator coil fins. Turn off the power to the furnace before pulling the filter so the blower doesn't come on and blow dust throughout the system.
Vacuum up any dust that has collected in the blower compartment but be sure to turn the power off first.
Be sure to cover your air conditioner unit to keep it clean and free of debris. Also be sure to uncover it in the Spring before turning it on.
Regular maintenance is the best way to ensure your system is running to it's Manufacturers' design specifications
SCHEDULE APPOINTMENTSCHEDULE APPOINTMENT

For those problem kitchen sink lines in all those condos out there we have a great solution for your DRAIN as well.
Talk to us! We have a solution to clean out those lines and $$ SAVE MONEY $$!
SCHEDULE APPOINTMENTSCHEDULE APPOINTMENT

Applicable heating and cooling equipment provided and installed by Pro Flow Plumbing & Heating is backed by it's Manufacturer Warranty on parts and labour.